Racine Heating Service Experts
Need a new heater? We got you covered! Call now for quality heater repair & tune-ups!

Winters in Racine, WI can be brutal. Is your furnace or heater system ready for another long winter season? Better make sure by calling Rosenthal Heating & Air Conditioning to check it out.
We provide top-quality furnace repair and replacement, and maintenance by NATE-certified technicians. We are a full-service HVAC contractor for more than twenty years of experience in the community.
Call us today to work with a licensed team and receive 24/7 emergency services, flat rates, and top-quality systems from reputable brands like Amana and Payne.
See what your neighbors have to say about our services in these unfiltered customer reviews.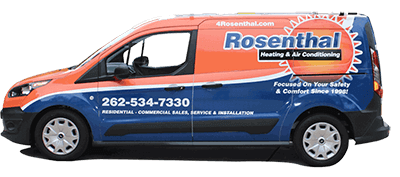 Heating Repair & Replacement in Racine
Rosenthal Heating & Air Conditioning is your go-to contractor for all of your heating service needs. If you think your furnace could be operating better, give us a call. We will quickly send a certified technician to your home to evaluate it. We will explain the problem and go over your options to resolve it.
If your unit cannot be repaired, we carry name-brand furnaces and central heating systems, and our installations are always code-compliant to ensure your safety. Call us today to work with the most trusted HVAC contractor in the area and to receive affordable flat-rate pricing and 24/7 emergency service by a licensed AC contractor.
Comprehensive Heating Tune-Ups
Annual maintenance for your heating system offers many benefits, including reduced repair bills, improved indoor air quality, and comfortable indoor temperatures. It is the single most important thing you can do for your system to keep it running properly.
Our maintenance plans offer priority service, easy scheduling, and generous discounts. You'll save money by restoring your system's efficiency, preventing costly repairs, and extending the life of your unit. In fact, many HVAC manufacturers will not honor their warranty unless the unit has received regular, proper maintenance.
Give us a call to discuss our planned maintenance agreements. We'll help you choose the one that's right for your home!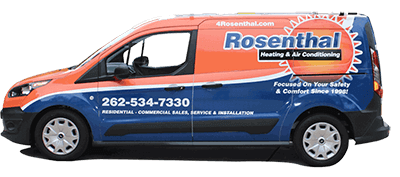 Trusted Emergency Heating Repair
If your furnace or heater breaks down in the middle of winter, call Rosenthal Heating & Air Conditioning for fast, emergency service no matter what time it is. Our team of experts is always ready to spring into action when you call with a crisis situation. We will arrive at your home in a well-stocked vehicle to restore your system so you can return to your regular activities.
So, the next time you find yourself without heat, call the leading HVAC contractor who will show up on time to take care of business. We are always available to help!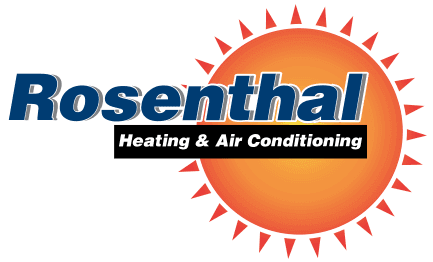 ---
At Rosenthal Heating & Air Conditioning in Racine, WI, we provide furnace and central heater repairs and replacement, furnace tune-ups by certified specialists, honest flat-rates, and 24/7 emergency service. Call 262-534-7330 for prompt, reliable service you can trust.
---