Air Filter Replacement in Burlington & Southeast Wisconsin
Contact us for fast, reliable air filter replacement services!
Does the air from your HVAC system seem stuffier or dirtier than usual? Then you might have a dirty air filter.
At Rosenthal Heating & Air Conditioning, we're proud to be a leading HVAC company in Burlington, WI, providing AC and heater filter replacement and repair services. Customers continue to trust us for our commitment to quality. No matter how big or small the job is, you can count on us to provide nothing but our best efforts.
If you're looking for an air filter repair and installation company, turn straight to us. We promise we're the best team for the job!
Is your AC acting up? Reach out for 24-hour AC repair services in Burlington and Southeast Wisconsin.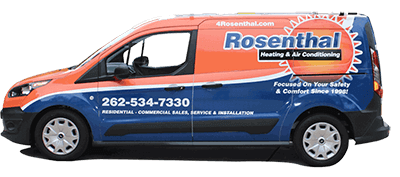 What Do Air Filters Do?
Generally, air filters prevent contaminants and bacteria from entering and exiting the HVAC system. These include, but are not limited to, following:
Bacteria
Fur/hair
Wood particles
Dust particles
Pollen
If your air filters fail to function properly, not only will your unit be at risk for damage, but you'll also be exposed to these harmful contaminants. Prolonged exposure might lead to health and respiratory issues – especially among those with weak immune systems.
Signs You Need Air Filter Repair
AC Unit
SYSTEM GETS TOO HOT: A clogged air filter traps the heat in your AC. With nowhere else to go, it will stay there and cause your unit to overheat.
LACK OF COOL AIR: There are plenty of reasons why your AC isn't providing cool air, but a very common one is a dirty air filter.
DUSTY VENTS: A clear sign you need to call for AC filter replacement is if there's always a thick layer of dust surrounding your vents.
Furnace System
GRAY FILTER: Is your filter turning gray? That's an obvious sign to call for a furnace filter service replacement ASAP.
INCONSISTENT CYCLING: Clogged air filters can cause your unit to cycle on and off inconsistently. Of course, keep in mind that an array of other defects may lead to cycling issues as well. Our team can help you get to the bottom of the problem!
PAST LIFESPAN: Keep in mind that you should get heater filter replacement at least twice a year. If it has already been longer than that, then you may have to consider investing in a new air filter.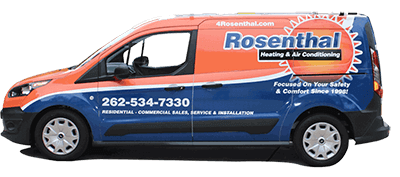 Need Help Maintaining Your HVAC System's Air Filters?
HVAC maintenance is a hassle. Nobody has the time to disassemble, tune-up, and tinker with their heating and cooling systems. Instead of taking on the task yourself, opt to hire our pros. Why choose our furnace filter replacement service?
BETTER CRAFTSMANSHIP: Furnace and air conditioner filter replacement projects aren't as easy as they sound. Our team can ensure your filter is properly installed, and your system is running at peak performance.
HIGH-GRADE PARTS: As AC and furnace filter service experts, we source the best replacement parts available on the market. These are durable products built to last months.
FASTER TURNAROUND TIME: We can often finish an air filter installation and quick maintenance service in less than 15 minutes—we won't take up too much of your time.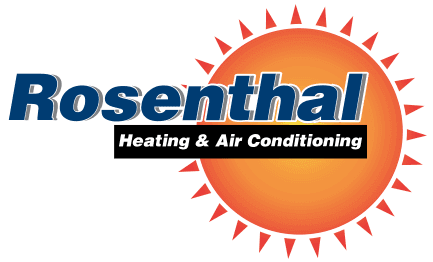 ---
Need to get a new air filter? Reach out to Rosenthal Heating & Air Conditioning for professional air filter replacements and installations. Book an appointment in or near Burlington, WI at 262-534-7330.
---