Evaporator Coil Services in Burlington & Southeast Wisconsin
Providing 24/7 AC evaporator coil repair and replacement services throughout Southeast Wisconsin. Call Today!
At Rosenthal Heating & Air Conditioning, our team of AC specialists is ready to repair, replace, or install evaporator coils in all brands and types of air conditioners. We serve customers from and around Burlington, WI.
You may be wondering if your evaporator coil is even important—and the answer is yes. It is what allows your AC unit to regulate the temperature inside your home quickly and efficiently. Your AC's compressor runs refrigerant through the coil's tubing allowing it to absorb excess indoor heat, which is then blown outdoors.
An evaporator coil is an integral part of any modern cooling system. That's why you should never forego repairs or maintenance checkups.
Has your AC already failed? Don't sweat it out! We offer 24/7 emergency AC repair.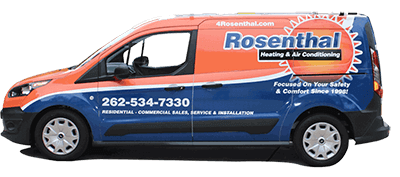 Importance of AC Evaporator Coil Cleaning
AC evaporator coil cleaning ensures your unit:
USES ENERGY EFFICIENTLY: A dirty evaporator coil will prevent your unit from absorbing heat properly. To compensate, your AC will have to generate twice as much cool air to reach your desired temperature. This effect will overwork your system and force it to use too much electricity over time.
PRODUCES CLEAN AIR: Mold and mildew buildup will make your AC smell damp and musty. Plus, they carry thousands of harmful bacteria that may cause respiratory infections, asthma attacks, and allergic reactions.
LASTS LONG: Regular cleaning is a must if you want to maximize your unit's lifespan. Otherwise, you might find yourself calling for an evaporator coil replacement almost every other month or so.
Signs Your AC Evaporator Coil Need Repair
Watch out for these common signs and issues that indicate underlying evaporator coil damage:
SPORADIC CYCLING: Does your AC turn on and off at random? Then your evaporator coil may be malfunctioning. This issue often occurs when the unit can't handle the load and is forced to shut down prematurely.
STRANGE SOUNDS: Keep your ears peeled for strange hissing and banging noises. Evaporator coils tend to make these noises when air gets trapped inside the pipes.
LACK OF COOL AIR: Perhaps the clearest sign you need an AC evaporator coil repair is if your unit can't produce cool air.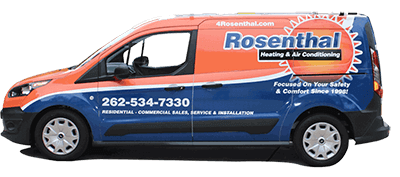 Why Choose Us?
Dozens of contractors offer evaporator coil replacement and repair in Burlington, WI. Why should you choose us?
Our team is backed by more than two and a half decades of experience—it's no exaggeration to say we have all the skills, know-how, and engineering needed to address all kinds of evaporator coil issues.
We strive to be transparent and upfront with all our fees. It's our goal to earn your trust through transparent flat-rate pricing. Despite our competitive rates, we still source nothing but the best, high-grade replacement parts available on the market.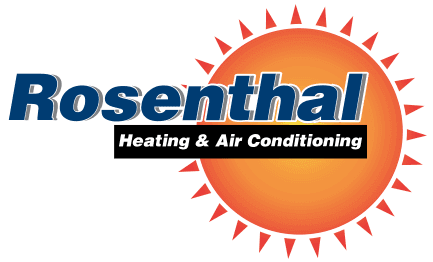 ---
Need evaporator cleaning or repair? Then reach out to Rosenthal Heating & Air Conditioning! Our experts provide fast, reliable repair and replacement services in Burlington, WI. Call 262-534-7330 to schedule service.
---