Pleasant Prairie Heating Company
Need a licensed furnace contractor in Pleasant Prairie? You've come to the right place!

Is your heating system ready for winter? If you don't know, play it safe and call Rosenthal Heating & Air Conditioning in Pleasant Prairie, WI. We are a licensed and insured HVAC contractor offering quality furnace and heater repair, replacement and maintenance by NATE-certified professionals.
We are a full-service heating contractor with more than twenty years of service to the community. All of our work is code-compliant to ensure your safety. In addition, we carry name brand heaters and furnaces from reputable manufacturers.
Call us to speak with a certified technician and to receive flat-rate pricing, 24/7 emergency furnace services, and high-quality heating systems from leading brands like Amana and Bryant.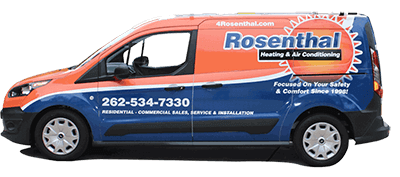 Heating Repairs & Replacement Contractor
Rosenthal Heating & Air Conditioning is an EPA certified heating contractor serving our community with high-quality heating services. If your furnace is performing poorly, give us a call. We'll quickly dispatch a technician to your home to evaluate your furnace and give you a diagnosis. If your unit cannot be repaired, we will replace it with a brand new one complete with all the modern features you need.
Our company has partnered with reputable manufacturers to bring you top-of-the-line furnaces and central heating systems, and our installations always follow local and state code to ensure the safety of your home and family. Give us a call to receive flat-rate pricing, 24/7 emergency heating service, and quality materials.
Our News & Media page offers tips you can use to make your home more comfortable and efficient.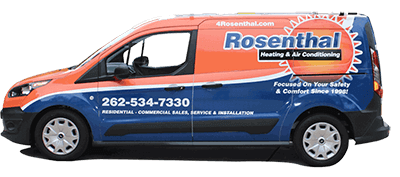 Reliable 24/7 Emergency Heating Service
If your furnace won't turn on, you want to call an expert to troubleshoot it. We offer prompt, emergency 24-hour emergency service 365 days a year. We keep a team of technicians available to answer your call when you need help. We travel the city in well-stocked vehicles to be able to restore your heating system on-demand, so you can get on with the rest of your day comfortably.
Trust Rosenthal Heating & Air Conditioning the next time your heater or furnace breaks down. We are always ready to send help when you need it most!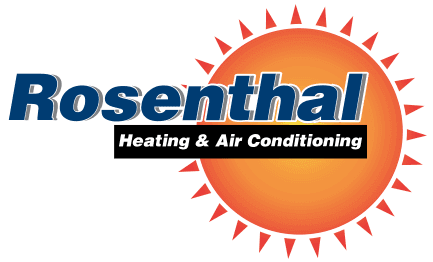 ---
At Rosenthal Heating & Air Conditioning in Pleasant Prairie, WI, we offer furnace and central heater repairs and replacement. Call 262-534-7330 for reliable service you can trust!
---