Lake Geneva AC Service Company
We are the most trusted air conditioning contractor in the city! Call us today.

For more than twenty years, Rosenthal Heating & Air Conditioning in Lake Geneva, WI has been serving the community with top-quality air conditioning repairs, replacements, and maintenance by certified technicians. We are an EPA certified AC contractor offering quality services and products.
All of our work is code-compliant and done by state-certified technicians to ensure your home's safety. Call us when you need air conditioning services. For your convenience, we offer 24/7 emergency service and honest flat-rate pricing.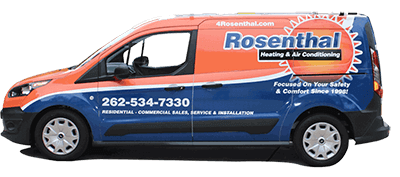 Air Conditioning Repair & Replacement
We understand what an inconvenience a broken down AC system can be, so we act fast when you call us for help. We'll send an expert to your home in a fully-stocked vehicle to inspect your AC unit and resolve the problem quickly and efficiently. We will repair or replace your AC so that you can enjoy cooling comfort once again.
If your unit can't be repaired, we will replace it with a new one. We stock quality air conditioners from top manufacturers. Our technicians receive continuous training and use this knowledge in every job we go to. You will be in good hands when you work with us.
Call our certified team the next time you need AC service done right.
The Secret Is Planned AC Maintenance
Many air conditioning manufacturers will not honor your system's warranty if you do not have a maintenance agreement for your system. If you don't have one now, give us a call and we will be glad to help you choose a plan that's right for your home.
AC maintenance will keep your unit running smoothly without interruption. It can also save you money in the long run. Enjoy comfortable indoor temperatures, improved air quality and adequate humidity levels with regular HVAC tune-ups from our experts.
We have a maintenance plan for every make and model of HVAC. Our team will go over your unit and ensure that it is good to go another summer. Here are a few of the things we will check:
Replace thermostat
Lubricate components
Ductwork inspection
Check blower belt
Clean or replace condenser coils
Check for refrigerant leaks
Clean drain pans
Refrigerant recharge
Give us a call to speak to an AC expert about our maintenance plans. We can help you choose the right plan for your home and your wallet.
Want to know more? Peruse our News & Media page to learn more about your AC system.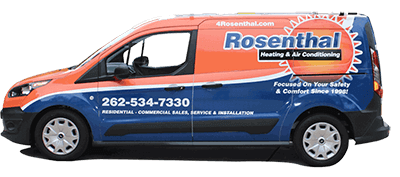 24-Hour Air Conditioning Repair Service
If you wake up in the morning to a broken air conditioner, call us and we'll send a technician to your home right away. We are open 24-hours-day, 365 days a year to help you at a moment's notice.
We carry everything we need in our fully-stocked vehicles in order to provide you with immediate solutions. You won't have to wait for parts. We'll evaluate your AC system to determine the cause of the problem and we will work fast to make your home cool and comfortable.
The next time your AC unit is giving you trouble, call us to receive immediate service.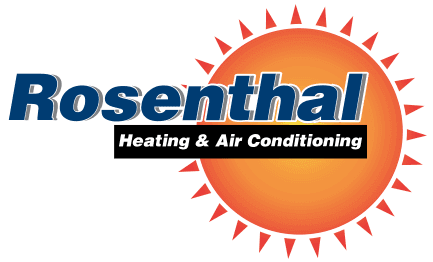 ---
Call Rosenthal Heating & Air Conditioning in Lake Geneva, WI at 262-534-7330 for fast, expert AC repair and replacement.
---