Kenosha AC Company
Keep your cool this summer with AC services from our experts in Kenosha!

Rosenthal Heating & Air Conditioning in Kenosha, WI is your local air conditioning contractor with over twenty years in business. We provide emergency AC repair and maintenance, and central AC installations by NATE-certified professionals. Call today to work with the most trusted AC contractor in the city.
Our licensed technicians provide AC repairs and installations that comply with city and state code to ensure your home's safety. Give us a call the next time you need AC service. We offer 24-hour emergency repairs and affordable, flat-rate pricing.
Our customers have us on speed dial! Check out what they say in our customer reviews!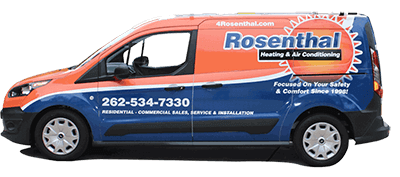 Trusted Air Conditioning Contractor in Kenosha
If your AC system requires repair, give us a call. We provide high-quality AC repairs that last. Our technicians stay on top of the latest advancements in air conditioning technology, and we apply that knowledge to all of our work, including:
AC repair & replacement
Component Lubrication
Refrigerant Leak Repair
Air Handler Service
Filter Replacement
Evaporator Coil Cleaning
Ductless Mini Split AC Systems
And More!
Call us the next time you have a cooling problem to see why we are the leader in HVAC services.
Expert Air Conditioning Replacement
Your air conditioning system is one of the top investments in your home. So when it's time to replace it, you want to make sure you hire the right AC contractor to do the job. All of our AC installations are done by certified technicians and are always code compliant.
We can also help you choose the right AC system for your home and your budget. We stock air conditioners from reputable manufacturers like Bryant and Amana so you can rest assured you are receiving a top-quality product. Your old unit will be replaced with a brand new, energy-efficient system that is right for your household.
Say Good Riddance to Costly Repairs with AC Tune-Ups
It's a proven fact that AC maintenance can save you money. At Rosenthal Heating & Air Conditioning, we have a maintenance plan for every type of AC. Here are a few of the tasks our technicians will complete during a maintenance call:
Condenser coils cleaned
Repair refrigerant leaks
Check blower belt
Parts lubricated
Check air ducts for damage
Thermostat replacement
A yearly AC tune-up goes a long way to keeping your system running properly all year long without interruption. Call us to speak to an AC expert and to learn about the maintenance plans we offer.
You can save a bundle with our online coupons and other special discounts!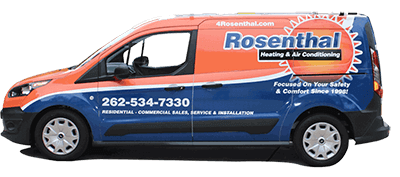 Reliable 24-Hour Emergency AC Service
Our experts are always ready to spring into action when a resident calls us with an AC-related problem. If your system stops working on the hottest day of the year, you want relief fast. That's when you want to call our emergency team who is always standing by ready to help at a moment's notice.
We commute in well-stocked vans that carry all the parts and tools we need to repair or replace your AC system on demand. So, the next time you need immediate AC service, day or night, call our reliable HVAC experts in Kenosha.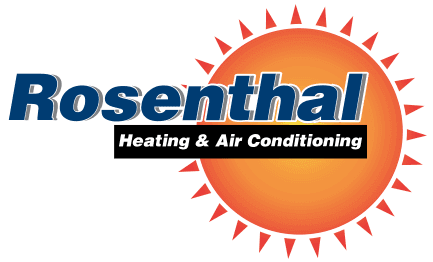 ---
Rosenthal Heating & Air Conditioning in Kenosha, WI provides quality central AC installation and repair. Call 262-534-7330 for transparent, flat rates and 24-hour emergency service.
---